Free At Walmart – 4 Kids Toothpastes Not Pictured
I had some
free product coupons
that I had been unable to use at my regular grocery stores, since the products were not available, so this morning I made a rare stop at Walmart. I also decided to pick up some other
Walmart Freebies
that
I Heart The Mart
had shared. I picked up ten bags of cat treats even though we do not have any pet cats. We do have three wild cats though, and our next door neighbor has basically adopted them, so we gave her the cat treats.
I thought Walmart had everything, but I was surprised to see that I could not find several products, so hopefully my local Publix store will have these items.
Shopping at Walmart definitely made me miss Aldi and Publix, for several reasons including running all over the store to find help, rude customer encounters and not being able to find anything because the place was too big. Still, I am glad that we do have Walmart in our area, and I know the Walmart stores bring a lot of jobs to our local community.
My Walmart Freebies Shopping Trip
Frechetta Pizza $5.58 – Free Coupon = Free
Kim & Scott Gourmet Pretzels $2.07 – Free Coupon = Free
Kim & Scott Gourmet Pretzels – $2.07 Free Coupon = Free
Kings Hawaiian Sub Rolls $1.88 – Free Coupon = Free
10 x
Craves Soft Treats For Cats
@ $1.47 – Free Coupons
from the 9/18 RP
=
Free
4 x
Crest Compete Toothpaste
trial size $0.97 each = $3.88 – (4 x $2 Crest Compete Coupons
SS 09/11/11)
=
FREE
($4.12 overage)
4 x Crest Kids Toothpaste (4.6 oz) (Not in photo) @$1.97 = $7.88 – (4 x $1 Crest Toothpaste coupon P&G 08/28/11) = $3.88
2 x Pillsbury icing @ $1.28 each = $2.56 – ($1 Pillsbury coupon hangtag) = $1.56 ($0.78 each)
Total out of pocket $2.28 + Tax
Total saved $39.46
You can also win free product coupons and groceries here at Frugality Is Free.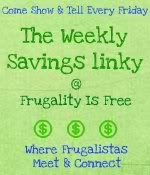 I would love to see how you did on your grocery shopping this week. Come link up at the

Weekly Savings Linky

at Frugality Is Free every Friday!