\
This morning my husband dropped me off at Publix at 7:30, before he went to school. I only had a few things on my grocery shopping list, and I almost skipped Publix shopping this week. However, when I discovered that Publix had lots of the Big Deals For Baby Coupon Booklet out, I grabbed a bunch of booklets with Motts coupons inside I did the Motts juice deal a few weeks ago, when I had six coupons, but I know that great Motts Juice deals are few and far between, and the Motts coupons expire September 30th.
Knowing that I had to walk home, I had to limit myself to 8 bottles of Motts juice. After the Motts sale of 3 for $6, and the Motts coupons, they were $1 each.
I had a cooling bag and two ice bottles inside for the milk, and since it was early my toddler and I decided to make a quick stop at the playground. Take a look at the loaded stroller to your right. There was no more room!
Check out my Publix Shopping Trip:
8 x Motts Juice on sale at $2 each = $16 – (8 x Motts Coupons from Big Deals For Baby Booklet) = $8 ($1 each)
2 x Ritz Bits on BOGO sale at 2 for $3.89 – (FREE coupon from MyCokeRewards) = FREE
4 x Right Guard Deodorant on BOGO sale at 2 for $2.79 = $5.58 ($1.40 each)
2 x Philadelphia Cream Cheese on BOGO sale at 2 for $3 – ($1/2 Philadelphia Coupon) = $2 ($1 each)
2 x Lenders Bagels on BOGO sale at 2 for $2.19 ($1.10 each)
2 x Bush Vegetarian Beans at $1.20 each = $2.40
Goya Adobo All Purpose Seasoning at $2.49
3 x Smart Balance Lactose Free Milk on sale at $3 each = $9 – (3 x $0.75) = $6.70 ($2.25 each)
Total out of pocket $30.20

Total saved $43.57
I also used 4 Free Blockbuster Codes to get 4 x Free Blockbuster Rentals
If you are wondering where the produce is, make sure to check out my
Aldi Produce
shopping trip.
Don't forget that you can win groceries right here at Frugality Is Free
You can also win free product coupons and groceries here at Frugality Is Free.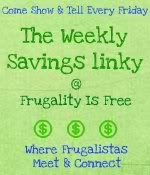 I would love to see how you did on your grocery shopping this week. Come link up at the

Weekly Savings Linky

at Frugality Is Free every Friday!