My oldest son's birthday party is this upcoming weekend, so this week I am adding to the grocery budget to shop for the party. Fortunately I have been able to get some great deals on everything for the party, and despite going all out, I am doing so the frugal way.
I also stocked up on Birds Eye frozen vegetables, as they finally went on 50 percent off sale. One of my local Publix stores has had $0.35 Birds Eye coupons in the turnstile for a while, and every time I went shopping I grabbed a couple. It all added up to 23 Birds Eye coupons, and I made sure to use every single one, as they expire 9/30/11.
BOGO: Buy One Get One Free
– $5 Publix Coupon from Mailer
Total saved $144.22
Submitted for $5 Kelloggs Gift card Mail-In-Rebate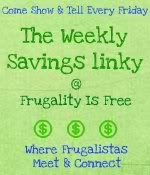 I would love to see how you did on your grocery shopping this week. Come link up at the Weekly Savings Linky at Frugality Is Free every Friday!