My toddler and I did a lot of shopping this morning including Publix shopping, and although we did not get the best deals, we still got what we needed without spending a lot. At Publix we picked up a few deals, and we also got four free movies from the Blockbuster Express Kiosk. I had one free movie code, and then I had ten free movie codes from Erewards that I could use. Since our freezer is not working properly, I decided not to buy any meat until it works without problems again.
After a trip to Walmart yesterday, I will admit that it felt great to be back at my local Publix where everyone smiles, greets you and helps even without asked. My son sure loved his free balloon and cookie too:)
Coupon Lingo:
NLA: No longer available
RP: Red Plum coupon insert
SS: Smart Source coupon insert
TC: Target coupon
DC: Doris coupon
MF: Manufacturer coupon
IP: Internet Printable
BOGO: Buy One Get One Free
Yel. Adv: Publix Yellow Advantage Flyer
Gr. Adv: Publix Green Advantage Flyer
My Publix Shopping Trip:
Publix Sour Cream on sale at $1.69
2 x Crisco Extra Virgin Olive Oil @ $6.09 = $12.18 – (Publix BOGO Crisco Coupon SS 9/25 and 2 x $1 MF Crisco Coupons – hangtags) = $4.09 ($2.05 each)
2 x Garden Lites Souffles on BOGO sale @ 2 for $3.49 – (2 x $0.75 Garden Lite Coupons SS 9/25) = $1.99 ($1 each)
4 x
Pillsbury Grands
on sale @ 4 for $5 – (2 x $1 off 2 Pillsbury Grands Coupons from General Mills cereal boxes (Find $1/2 IP
Pillsbury Coupons
here) = $3 (
$0.75 each
)
4 x Old El Paso Vegetarian Refried Beans on sale at 4 for $5 – (4 x $0.50 Old El Paso Coupons SS 9/18 or SS 8/7).= $3 ($0.75 each)
Marzetti Caramel Dip – Free coupon from blog promotion = Free
Apples $2.99 – ($1 Apples and Marzetti Coupon Yellow Adv. = $1.99
Suave product – Free coupon from Facebook promotion NLA = FREE
Bagels $1.69 – $0.70 Publix Bagel Coupon from Publix FamilyMagazine = $0.99
Publix Lemonade $2.99
– $5 Publix Gift Card from Mail-In-Rebate
Tax $0.23
Total out of pocket $15.95
Total saved $44.74
(Sometimes you can also get Publix coupons at
Recyclebank
. If you are new to Recyclebank, or if you are interested in signing up, make sure to check out my
Recyclebank Guide
to get the most out of your Recyclebank account.)
If you are wondering where the produce is, make sure to check out my
Aldi Produce
shopping trip.
Don't forget that you can win groceries right here at Frugality Is Free
You can also win free product coupons and groceries here at Frugality Is Free.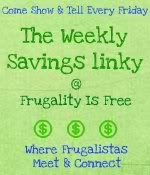 I would love to see how you did on your grocery shopping this week. Come link up at the

Weekly Savings Linky

at Frugality Is Free every Friday!