It has been a busy week, so I am way behind with my grocery savings and shopping posts, but I am determined to get to the Weekly Savings Linky post soon. This week I added a stop to a local grocery chain called Sedanos. It was on my way to Aldi, so I got off the bus early and walked the rest of the way, but it was a definitely worth a visit. Sedanos had a sale on a 20 lb bag of rice for $5.99, if you purchased $10 worth of groceries….so that's what I did.
Sedanos Grocery Shopping
1.03 lbs of plumbs for $0.89/lbs = $0.92
3 x cucumbers on sale at 3 for $0.89
5 x limes on sale for $0.50
5 lbs red potatoes on sale at $1.50
2 x Jamaican Crackers on sale at $1 each = $2
Grace Hot Pepper Sauce $1.99
Chocolate wafers on sale at $0.99
Sedano Maria cookies on sale for $0.33
2 x Black Beans on sale @ $0.50 each = $0.99
20 lbs Sedano Rice on sale at $5.99
Total out of pocket $16.08
Total saved $10.21
I got the rest of my produce at
Aldi
, and make sure to check out the Weekly Savings Linky where you can see exactly what I spent and where.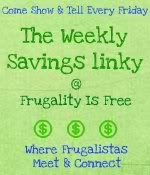 I would love to see how you did on your grocery shopping this week. Come link up at the

Weekly Savings Linky

at Frugality Is Free every Friday!