Last week I receive a $25 Target gift card from
Gather.com
, one of my online writing sites, and I could not wait to go spend it on a
Target clearance shopping
trip. I knew my favorite Target store had lots of great clearance, and there were a few items that I had been waiting for. See, when clearance hit 50 – 75 percent off at Target, then I start shopping.
Some of the things I had been looking for was a comforter that I could make three small junior comforters out of for my boys, as the ones they have from Europe needs to be thrown out. I have also been looking for a small area rug that my kids can play on in the living room, as we have tile floors all over the house. My husband had bought a nice big rug about 1 1/2 years ago, but there was no way I could have it in a house with three boys, because it was white! The rug that I found at Target was perfect, and the colors (black, brown and gold) fit perfectly with my living room decor.
I also lucked out with $2.48 Wrangler jeans for my middle son, who loves to wear jeans. I already have jeans for him for this year, so they will be packed away for the next two years. The best deal might just have been the two pair of free capri jeans that I got for myself….nothing beats free.
My Target Clearance Shopping Trip
2 x
Seventh Generation Dish Detergents
@ $2.69 = $5.38 – ($2/2 Seventh Generation Coupon MF and 2 x $1
Target Coupons
) = $1.38 (
$0.69 each
)
2 x Revlon Nail Clippers @ $2.24 each = $4.48 – ($5 Revlon Coupon Catalina) = FREE ($0.52 overage)
3 x Wrangler Jeans on clearance at Target for $2.48 = $7.44 (Was $9.99 each)
Cotton cord on clearance at Target for $0.98 (Was $4.99)
Fieldcrest Bath Rug on clearance at $4.98 (Was $19.99)
– $0.15 in Target Reusable Bag Discount
Total out of pocket $22.47
Total saved $220.36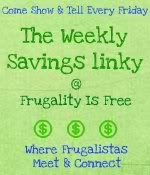 I would love to see how you did on your grocery shopping this week. Come link up at the Weekly Savings Linky at Frugality Is Free every Friday!