This week I actually skipped a Publix ad week, as there were nothing I needed in last week's ad. My pantry, fridge and freezer were filled up, and I needed to get back on track with shopping Thursday or Friday at Publix. I did pick up a few item today from this week's ad, and then I went clearance crazy at Target as my local Target stores had a lot of 70 – 75 percent off clearance.




You can see the details of my shopping trips by clicking on the titles or the images.
See my:
I spent $12.84 at Aldi
I Saved $9 at Aldi
See my:
I spent $33.43 at Publix
Groceries for a family of 5:
Total spent this week $69.49
Total saved this week $119.03
This week's clothing and extra purchases:
Total spent this week $51.84
Total saved this week $212.97
Total Out of Pocket This week:
Total spent this week $121.33
Total saved this week $332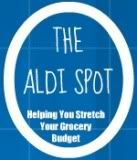 You can also find lots of great printable coupons at my coupon database My Best Printable Coupons.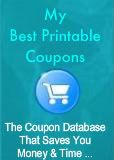 You can also win free product coupons and groceries here at Frugality Is Free.
# Win a Betty Crocker Fun da-middles Prize Pack 10/10


# (3 Winners) Win $25 in Del Monte Gift Certificates 9/21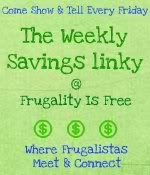 For more places to link up your
grocery savings
check out the
Weekly Savings Linky Collection
, and if you have a giveaway on your blog don't forget to enter it at the
Fantastic Friday Giveaway Linky
.
I would love to hear how you did on your savings this week?
Please list name of blog, savings, name of store below.