Both of my two oldest boys and my husband are back in school full time, and I simply cannot understand where the time is going. I thought I would have lo lots of time on my hands, but instead I feel like I am getting nothing accomplished. Since my husband is now in school full time and working full time, I have to do any shopping on foot or by taking the bus. This is a bit of a challenge, but I got the shopping done this week, in fact I got lots of shopping done.
The biggest problem is that my oldest son has A LOT of homework. I certainly do not remember having this amount of homework, when I was in third grade. We get home around 2:30 p.m., and my son starts doing homework at 3 p.m. – he takes a brief dinner break, and then he continues until bed time around 8 p.m. I hope it will get better once my son get's back into the homework routine again, and at least we have the weekends to have fun (after the weekend homework is done).
Okay, that was a bit of a side note, so back to shopping. August and September are my biggest clothing shopping months of the year, as the summer clothes go on clearance and since we live in South Florida, we wear summer clothes for most of the year. Besides some cheap $1 – $3 jeans at Target in July – August, I have yet to see the great kids clothing deals though, but I know they are coming in September, and I will be out shopping with my coupons and gift cards.
You can see the details of my shopping trips by clicking on the titles or the images.
See my:
I spent $36.78 at Aldi
I Saved $15 at Aldi
See my:
I spent $27.81 at Kohls
I Saved $137.76 at Kohls
See my:
I spent $5.20 at JCPenney
I Saved $127.09 at JCPenney
See my:
I spent $13.63 at Publix
Groceries for a family of 5:
Total spent this week $56.03
Total saved this week $81.51
This week's clothing and extra purchases:
Total spent this week $52.15
Total saved this week $351.86
Total Out of Pocket This week:
Total spent this week $108.18
Total saved this week $433.37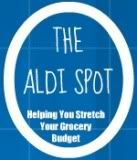 You can also find lots of great printable coupons at my coupon database My Best Printable Coupons.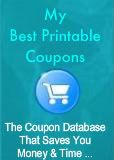 You can also win free product coupons and groceries here at Frugality Is Free.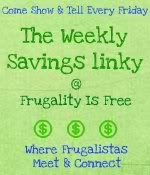 For more places to link up your
grocery savings
check out the
Weekly Savings Linky Collection
, and if you have a giveaway on your blog don't forget to enter it at the
Fantastic Friday Giveaway Linky
.
I would love to hear how you did on your savings this week?
Please list name of blog, savings, name of store below.