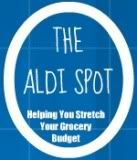 Have you ever checked out my other shopping blog, The Aldi Spot? At The Aldi Spot, you can find Aldi recipes, Aldi product reviews, Aldi price alerts, sales and much much more. One of the most popular posts at The Aldi Spot is the Grocery Price Comparison chart, which compares prices at Aldi with prices at Publix, Walmart, Target and Winn-Dixie.
If you have not been to visit my other blog The Aldi Spot, this is definitely a great time to go. Right now you can enter to win an Aldi Prize Pack!
Do you shop at Aldi?