I had to take my toddler to the doctor early this morning, so I managed to get to CVS right after 8 a.m. There were't many of the deals this week that I was interested in, but I had CVS Extra Bucks that needed to be used before expiring, so I used
CVS rainchecks
to make up for the lack of deals.
After I did my first transaction, I decided that I had enough CVS Extra Bucks to go ahead and put together a deal on the Mars candy, as I know the kids will come home with a note for Halloween treats at the last minute. I had to get wrapped candy, so I could not use the coupons on the M&Ms, and of course my newspaper did not have any of the Mars coupons. I still managed to put together a great CVS Halloween candy deal, and I surely could not have gotten this much of Halloween candy for the amount of money at any other store.
Tips To Using CVS Rainchecks
CVS rainchecks never expire
CVS rainchecks will honor extra bucks
You can always ask for a raincheck, if the sale product is not in stock.
If your local store gives you a hard time about getting rainchecks, a call to CVS customer service will help.
When getting a CVS raincheck, it is a good idea to cut out the deal from the CVS ad, and staple it to the raincheck. This will make it easier for you to see, which product you need to get for the raincheck.

When using CVS rainchecks, your CVS extra bucks will not print automatically. The cashier will have to print these manually, and many forget. Don't leave the store without you rCVS Extra Bucks, politely remind your cashier about the CVS extra bucks, if he or she forgets.
My CVS Shopping Trip
First Transaction
Dial Soap 3 pack on sale for $1.88 ($1 CVS Extra Bucks)
3 Twix Bars on B2G1 sale @ $1.19 each = $2.38 – Free Twix Coupon from online contest = $1.19 ($0.40 each) – (Part of the Mars candy deal)
2 x Soft Soap Body Wash with CVS raincheck @ 2 for $6 – (2 x $1 Soft Soap coupon SS9/25) = $4 ($2 each) ($4 CVS Extra Bucks Back)
Thermacare 1 ct with CVS raincheck @ $3.79 ($3.79 Extra Bucks Back)
Powerade $1.49 – Free Powerade Coupon = FREE
– $10 Extra Bucks from another shopping trip
– $1 Extra Bucks from another shopping trip
Subtotal $0.74
Tax $0.99
Total OOP $1.73
Total saved 22.35
$9 CVS Extra Bucks Back from deals
$1 CVS Extra Bucks from summer spending
Second Transaction – CVS Halloween Candy
Snickers Fun Pack on sale at $1.25
Milkyway Fun Size on sale at $2.50
Twix Fun Size big bag on sale at $5
– $8 CVS Extra Bucks from previous transaction
Subtotal $0.75
Tax $0.05
Total out of pocket $0.80
Total saved $12.72
$3 CVS Extra Bucks Back
(The Twix from the first transaction counted toward the Spend $10 Get $3 Extra Bucks Back)
Total Spent at CVS $2.53
Total Saved at CVS $35.07
Extra Bucks Back $5
As you can see above, rolling extra bucks is a fantastic way to save A LOT of money at CVS. Check out my CVS Gift Card Challenge, where I was able to get a total of $426 worth of products for $25.
For more great
CVS Deals
make sure to check out Simply CVS!.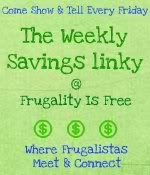 I would love to see how you did on your grocery shopping this week. Come link up at the Weekly Savings Linky at Frugality Is Free every Friday!