I had to keep my oldest son home from school today, as he was getting whatever bug my two younger siblings already has had. Still, shopping had to be done, and I had a few surprises up my sleeves for the boys, so I dragged both my two-year-old and my nine-year-old sons to Publix. I have gotten so used to just shopping with my youngest son, that shopping with the two of them stressed me out a bit, but I still survived without any major mistakes.
I had already bought my produce at
Sedanos
and
Aldi
, since many of the
Publix grocery prices
are quite high unless there is a sale. This meant that I just had to pick up the deals and a few extras on my list. I had to adjust my Publix shopping plan a bit, as they were out of both Advantage flyers, but I still managed to get everything I need without breaking the bank.
I use
I Heart Publix
when planning my Publix grocery trip, but the South Florida
Publix grocery prices
are a bit higher (sometimes $1 more than in Georgia), so I also had to make a few adjustments because of this.
Coupon Lingo:
NLA: No longer available
RP: Red Plum coupon insert
SS: Smart Source coupon insert
TC: Target coupon
DC: Doris coupon
MF: Manufacturer coupon
IP: Internet Printable
BOGO: Buy One Get One Free
Yel. Adv: Publix Yellow Advantage Flyer
Gr. Adv: Publix Green Advantage Flyer
My Publix Shopping Trip
4 x Smart Balance Spread, 7.5 to 15 oz, BOGO $3.59 = $7.18
4 x Smart Balance Lactose Free Milk half gallon, 2/$6 = $12
Yoplait Fiber One Yogurt on BOGO sale at 2 for 2.79 –
(2 x $0.50 Fiber One coupons GM 9/11/) = $1.79 ($0.90 each)
4 x Breyer's Ice Cream or Blasts! Frozen Dairy Dessert BOGO $5.99 = $11.98
2 x Motts Juice on sale at $2 each = $5
– (2 x $0.55 Motts coupons from Vocalpoint mailer) = $2.90 ($1.45 each)
Oscar Mayer Beef Franks at $4.99
– $4.99 Free Product Coupon = Free
4 x Tropicana Lemonade/Punch on BOGO sale at 2 for $1.99 = $3.98 ($0.99 each)
– $5 off $50 Doris Coupon from Recyclebank
(Publix Competitor Coupon)
Total out of pocket $18.42
Total saved $73.81
Transaction 2
2 x Betty Crocker potatoes= $1.99 = $2.98
4 x Cover Girl eye make up at $2.99 = 11.96
– (2 x $8 Covergirl coupons 10/2 PG) = FREE (-$4.04 overage)
Badia whole pepper $1.69
Badia whole seasalt $1.99
Total out of pocket $1.84
Total saved $18.50
Publix Shopping Totals
Total out of pocket $20.26
Total saved $92.31
(You can also get Publix coupons and Doris coupons (Publix competitor coupons) at
Recyclebank
. If you are new to Recyclebank, or if you are interested in signing up, make sure to check out my
Recyclebank Guide
to get the most out of your Recyclebank account.)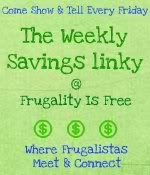 I would love to see how you did on your grocery shopping this week. Come link up at the

Weekly Savings Linky

at Frugality Is Free every Friday!