We have had a lot of rainy days this week, which is not easy, since I do a lot of my shopping on foot. On top of that my boys are taking turns being sick, so it has been quite a week. I did manage to get a couple of shopping trips done, and I even went to JCPenney for some clothes shopping.
I was very fearful that I had gone over budget for a second week in a row, but thankful I am below my family's $60-70 grocery budget for our family of five. After looking what I could have paid, I sure am happy that we do not need to pay taxes on our savings. It might seem like a lot of work for me to run from store to store without a car, but when I look at the savings I know it is worth it. Thanks to coupons, sales and comparison shopping my family's grocery budget remains low and our pantry full.
You can see the details of my shopping trips by clicking on the titles or the images.
See my:
I spent $23.88 at Aldi
I Saved $19 at Aldi
See my:
I spent $20.26 at Publix
I Saved $92.31 at Publix
I spent $3.48 at Sedanos
I Saved $4 at Sedanos
Groceries for a family of 5:
Total spent this week $56.55
Total saved this week $122.51
This week's clothing and extra purchases:
Total spent this week $0.12
Total saved this week $181.73
Total Out of Pocket This week:
Total spent this week $56.67
Total saved this week $304.24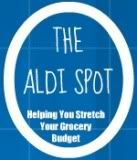 You can also find lots of great printable coupons at my coupon database My Best Printable Coupons.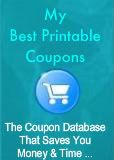 You can also win free product coupons and groceries here at Frugality Is Free.
# Win A Totinos Prize Pack 11/9

# Win 4 Boxes of Kim & Scott's Gourmet Pretzels 11/7
# Win a Walmart Gift Certificate 10/31
# Win a Freschetta Prize Pack 10/28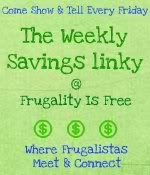 For more places to link up your
grocery savings
check out the
Weekly Savings Linky Collection
, and if you have a giveaway on your blog don't forget to enter it at the
Fantastic Friday Giveaway Linky
.
I would love to hear how you did on your savings this week?
Please list name of blog, savings, name of store below.