My boys seem to be taking turns being sick, but today I finally had a sick-free day (or so I thought), and the rain, tornadoes and stormy weather that has been hanging over South Florida for the past week finally cleared so it was time for shopping. My first stop was Sedanos, then Target and finally Aldi, and at my final stop the school called that my oldest son was at the school clinic with a fever. Fortunately it was right before school let out, and my husband was already there to pick up the boys, while I was far away shopping without a car.
Sedanos
had some great deals on produce that actually beat
Aldi's prices
, so I made sure to pick these up first. I was so excited about getting 5 oranges for $1, or "cinco naranjas" as they said in Sedanos, but while the oranges in the ad were yellow, they certainly were not at the store. I actually had to ask where to find the oranges … in Spanish, because at Sedanos you cannot expect everyone to speak English, but it is a good way to get my Spanish used a little. The Sedanos' employee pointed to a place right behind me, and sure enough there were the oranges…..but they were all completely green.
My disappointment was soon forgotten, when I discovered a bargain shelf with lots of packed produce for quick sale.
My Sedanos Produce Deals
2.39 lbs of bananas – Sedanos quick sale – @ $0.29/lb = $0.69
1.57 lbs of yellow onions – Sedanos quick sale – @ $0.29/lb = $0.46
Lettuce on sale at Sedanos for $0.69
Cilantro on sale at Sedanos for $0.33
0.97 lbs of Plum tomatoes on sale at Sedanos @ $0.69/lb = $0.67
2 green peppers on sale at Sedanos for $0.99/lb = $0.64
Total out of pocket $3.48
Total saved $4
We are having a Mexican inspired dinner tonight with homemade salsa, so the Sedanos deal on cilantro was perfect.
The savings are calculated compared to the lowest price at my regular grocery stores (which mostly means Aldi). Take a look at the
Aldi price list
and price comparison list with Publix, Target, Winn-Dixie and Walmart.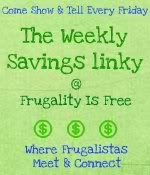 I would love to see how you did on your grocery shopping this week. Come link up at the

Weekly Savings Linky

at Frugality Is Free every Friday!