This morning I went to Target to take advantage of thee Target price match policy, as I had spotted a sale on 8th Continent soy milk at a local grocery store, which I never go to because it is out of my way. The local grocery store had 8th Continent Soy Milk on sale at $2.49 versus Targets regular price of $2.77. While the difference isn't much, it did save me $0.84 cents, and because I had some great $2 off 8th Continent Soymilk coupons, it just made the deal even better.
How To Use the Target Price Match Policy:
The product featured (in the photo) in the ad has to be identical to the product that Target carries (same size, same flavor etc.).
You need to bring the competitor ad (the entire ad) to Target's Customer Service counter.
My Target Price Match Shopping Trip:
3 x 8th Continent Soy Milk reg. $2.77 – Target Price Match at $2.49 each = $7.47 – (3 x $2 8th Continent Coupons IP – NLA) = $1.47 ($0.49 each)
2 x Target Orange Juice @ $2.29 each = $4.58 – $1/2
Target Coupon
= $3.58 ($1.79 each)
2 x Target Bagels @ $1.24 each = $2.48 – $1/2
Target Coupon
= $1.48 ($0.74 each)
– $0.10 Target Reusable Bag Discount
Taxes $0

Total out of pocket $6.43
Total saved $10.21
You can also win free product coupons and groceries here at Frugality Is Free.
# Win 4 Boxes of Kim & Scott's Gourmet Pretzels 11/7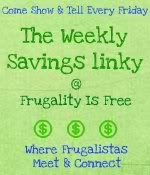 I would love to see how you did on your grocery shopping this week. Come link up at the

Weekly Savings Linky

at Frugality Is Free every Friday!