This morning my husband dropped our toddler and I off at the local shopping center, before he went to school. Walgreen's is the only store open at that time, so I headed for Walgreens to get cheap BenGay with a $2 Register Rewards that expired today….I am so bad with the Register Rewards!
My Walgreens Shopping Trip
2 x
Nestle Fun Size
bags of Butterfinger on sale at 2 for $5 – ($1/2 Nestle Walgreens Coupon from October booklet found in store or printable
Walgreens candy coupon
here and $1/2 Nestle
candy coupon
here.) = $3 (
$1.50 each
)
Bengay Pain Relieving Cream (Ultra Strength) 4 oz on sale at $5.99 (Reg. $9.49) – $5 Bengay Coupon SS 9/11= $0.99
– $2 Register Rewards
Tax $0.30
Total Out of Pocket $2.29
Total Saved $14.68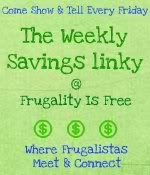 I would love to see how you did on your grocery shopping this week. Come link up at the

Weekly Savings Linky

at Frugality Is Free every Friday!