On Monday I went to Walgreens hoping to get
cheap Welch's jelly
, but of course they were out. Walgreens was also out of the chips and Kleenex that I had on my shopping list, so I left with a raincheck.
I was told that the Walgreens truck would be in Friday, and knowing that they only get a few items of each, I made sure to go there today after the playground. I do not like shopping at Walgreens, because shopping at Walgreens ALWAYS makes me frustrated for quite a few reasons….
Nothing is ever in stock
Our local Walgreens have very poor customer service
Walgreen are extremely bad with coupons
Walgreens does not offer Rainchecks with Register Rewards
Walgreens rainchecks are only valid for 30 days!
If you call Walgreens customer service, you are lucky if you get through, and even more lucky if you get to talk to someone who wants to help.
Yet, despite the frustration I do go on rare occasions, if there is an extremely good deal because it is right around the corner to our house. If it is an advertised deal without Walgreens coupons, I will much rather price match at Target though, and I have done this on many occasions just to avoid the Walgreens headache. I also spend much more time at CVS though, even though it is a much longer walk to get there. But….at least I do not walk out shaking my head every time wondering why I even bothered to shop there.
If there is a deal I want to pick up at Walgreens I try to go Monday morning or Friday when I only have one child with me, but today the older boys were out of school and I was not going to miss out on a great deal on my son's favoritejelly. Of course, Walgreens did give me issues with the coupons, but it was a good thing I scanned my receipt before leaving, because of course not all coupons were scanned. I don't rant very often, so I apologize…..I always feel like ranting after a Walgreens shopping trip though.
My Walgreens Shopping Trip
1st Transaction
2 x Kleenex Cool Touch for $3 – (2 x $0.50 Kleenex Coupons and $0.75 Walgreens Catalina coupon) = $1.25 ($0.63 each) ($1 RR back)
2 x Kettle Chips for $4 – 2 = $2 ($1 each)
Tax $0.18
Total out of pocket $3.92
Total Saved 7.33
2nd Transaction
– $1 Register Rewards from previous transaction
Total out of pocket $2
Total saved $12.41
Total spent at Walgreens $5.92
Total saved at Walgreens $19.74
Extra Walgreens Bonus….FRUSTRATION!
Are you a Walgreens shopper? If so, do you ever encounter any of the issues that I mentioned above.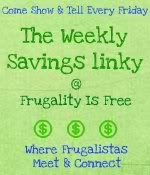 I would love to see how you did on your grocery shopping this week. Come link up at the

Weekly Savings Linky

at Frugality Is Free every Friday!