Today I went to JCPenney with my boys for a quick JCP stop. I was armed with a $10 off $10 JCPenney coupon, which I had received in the mail, a $10 off $25 JCPenney coupon from my last JCPenney shopping trip, and a $10 off $25 JCP coupon from Erewards. Neither of these coupons are available for print, but you can print a $10 off $40, a $15 off $60 or a $20 off $80 JCPenney coupon here.
I just wanted to get in and out with the boys, and the store was full, so once I got there I decided to save the $10 off $25 JCP coupons until I could get to JCPenney while my two oldest sons were at school. I did however want to use my $10 off $10 JCPenney coupon, because I will never let one of those go to waste.
I quickly scanned the kids clothing clearance racks, but nothing appealed to me, and then I headed for the kids shoes. My two-year-old son is growing out of his sneakers, and there are no more hand-me-downs from his big brothers, as the boys start wearing out their shoes once they hit the twos.
So, I discovered toddler sneakers for $12.99, perfect! $2.99 for a pair of shoes. There were three kind of shoes to choose from, and my son picked his favorite pair.
When we got to the register, it turned out that the the shoes my son had chosen only cost $9.60, so I had to go find the cheapest item in the store to match it up with. I thought about getting a reusable shopping bag for $1.49, but my final choice was a flower with magnet on that my middle son could add to a birthday gift he had bought for one of his classmates' birthday party tomorrow.
Check out my JCPenney Coupon Shopping Trip
Arizona Toddler Shoes on clearance at JCPenney for $9.60 (Was $24)
Flower decoration on clearance at JCPenney for $1.97 (Was $9.99)
– $10 off $10 JCPenney Coupon
Tax $0.11

Total out of pocket $1.68
Total saved $32.42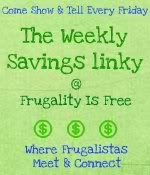 Did you get any great deals this week? Come link up at the

Weekly Savings Linky

at Frugality Is Free every Friday!