This morning my toddler and I went to the mall, and we had such a calm shopping day because it was just the two of us. Last time I went to the mall I had all three of my boys with me, and that just takes the pleasure out of shopping. I had received a
$10 off $10 JCPenney coupon
in the mail, and this expired Monday, and I was hoping to use the
$10 off $25 JCPenney coupon
as well.
I did find a great top for myself at $11.99 at the JCPenney clearance, but there were basically no kids clearance clothes. If there were any clearance it was at 50 – 70 percent off, and at that price I still hold out.
Another reason why I did not spend any more than $2.11 at JCPenney today was that all the sales were winter clothes – WINTER CLOTHES in South Florida. Yes, we do need winter clothes, for a day or two…at the most four days every winter, but not enough to go out and get an entire winter wardrobe. At my family we have plenty of winter clothes to go around from our days up north, and I did buy a winter jacket for my five year old this year (in February on clearance at 90 percent off or so). However, walking around in the department stores and seeing the same winter clothes on the racks as up north is just surreal, especially when we are walking around in shorts and t shirts….and breaking a sweat.
My JCPenney Clearance Shopping Trip
Worthington Top on clearance at $11.99 (Regular $30)
– $10 off $10 JCPenney Coupon
Tax $0.12
Total out of pocket $2.11
Total saved $28.01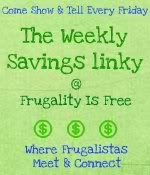 I would love to see how you did on your shopping this week. Come link up at the

Weekly Savings Linky

at Frugality Is Free every Friday!