I went way over my $60 – $70 grocery budget this week, but I had some room in the budget from other weeks, and I had to buy several things for my kids school Thanksgiving feasts and Thanksgiving food drives. I would have spent $20 on the food for the school, but after coupons and sales I only spent $10. Percentage wise I saved less than usual, but I still think I got a lot of groceries for my money. A total of two carts full of groceries for less than $100 is pretty good in my book. How much do you spend on groceries every week?
You can see the details of my shopping trips by clicking on the titles or the images.
See my:
I spent $33.20 at Aldi
I Saved $15 at Aldi
See my:
I spent $45.36 at Publix
I Saved $99.25 at Publix
I spent $9.21 at Target
I Saved $30.33 at Target

I spent $6.23 at Walgreens
I Saved $15.67 at Walgreens
I spent $0.17 at CVS
I Saved $15.28 at CVS
Groceries for a family of 5:
Total spent this week $94.17
Total saved this week $175.53
This week's clothing and extra purchases:
Total spent this week $0
Total saved this week $0
Total Out of Pocket This week:
Total spent this week $94.17
Total saved this week $175.53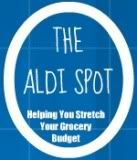 You can also find lots of great printable coupons at my coupon database My Best Printable Coupons.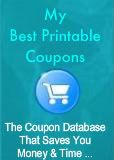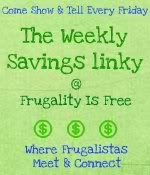 For more places to link up your
grocery savings
check out the
Weekly Savings Linky Collection
, and if you have a giveaway on your blog don't forget to enter it at the
Fantastic Friday Giveaway Linky
.
I would love to hear how you did on your savings this week?
Please list name of blog, savings, name of store below.