Today I went to Target to get cheap eggs and cheap orange juice, because this week I could beat Aldi's prizes by combining sales and coupons at Target. Our local Aldi store has increased their Aldi orange juice prize to $1.99 and Aldi eggs to $1.59, so I am very excited about these extra savings by shopping at Target. I also picked up two free Maybelline lip gloss that I am going to use as a part of holiday gifts.
6 x Target Orange Juice 64 oz on sale at $2.19 each = $13.14
4 x Target Eggs – 1 dozen on sale at $1.39 each = $5.56
2 x Lip Balm @ $2.99 each = $5.98 – (2 x $2
Target Maybelline coupons
and 2 x $1 Maybelline coupon NLA) = FREE ($0.02 Money Maker)
– $0.25 in Target Reusable Bag Discount
Tax $0.11
Total out of pocket $15.44
Total saved $16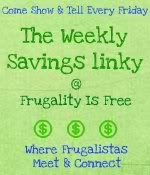 I would love to see how you did on your grocery shopping this week. Come link up at the

Weekly Savings Linky

at Frugality Is Free every Friday!