I had not planned on taking advantage of the CVS Black Friday deals this year, but then I realized that some of my CVS Extra Bucks were about to expire, so I made a last minute decision to squeeze in a CVS Black Friday shopping trip.
I could have done much better, but I did not want to get a lot of stuff that I was not going to use just for the sake of getting something free, and I wanted to get everything done in one shopping trip, because my toddler wasn't feeling well.
This morning I spent 15 minutes going through the
CVS Black Friday
deals at Simply CVS, and I surely could not have done nearly as well as I did without Cheryl's help.
My CVS Black Friday Shopping Trip:
4 x Twix bars @ $0.75 each = $3 ($3 ECB)
LA Looks Gel + 50 % Bonus on sale at $2.49 – $1 LA Looks coupon RP 10/9 = $1.49 ($2.49 ECB)
CVS batteries AA 4 pack $3.65 ($3.65 ECB)
Kleenex Tissue $1.50 ($1.50 ECB)
Breathe Right $5.99 – $1.50 Breathe Right Coupon RP 10/16 = $4.49 ($5.99 ECB)
Carmex $1 ($1 ECB)
2 x Bayer Advanced on sale at $0.99 each = $1.98 – $2 Bayer Coupon RP 9/11 = FREE
Reach Sensitive Toothbrush w/ raincheck $1 – $0.50 Reach coupon = $0.50
– $5 off $25 CVS Coupon from email
– $12 CVS EXTRA Bucks from previous transactions (soon to expire)
Tax $0.82
Total out of pocket $2.69
Total saved $41.35
$23.45 CVS EXTRA BUCKS BACK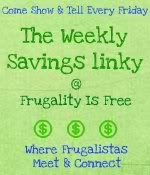 I would love to see how you did on your grocery shopping this week. Come link up at the

Weekly Savings Linky

at Frugality Is Free every Friday!