I love shopping, but sometimes I need to take a break from shopping at certain stores to keep my sanity and to keep up with everything else in my life. This is why I ended up taking a couple of weeks off from CVS shopping. There was not much I needed (if anything) from the last couple of week's sales cycles, so I decided to stay home as long as my CVS extra bucks would let me since rolling extra bucks is how I save at CVS. Some how I did manage to shop free at CVS despite the lack of motivation, and I only had to pay $0.17 in taxes.
I took almost a month off from CVS shopping, but I had to go back yesterday, because I had four CVS extra bucks that expired on November 9th. I found a great CVS deal to roll my extra bucks on, andI kept my fingers crossed that they had it in stock.
I know that my CVS usually runs out fast of the products on sale, so I went there yesterday morning. Of course there was no Smuckers Jelly on the shelf, and I immediately started looking for other deals. However, before I claimed defeat, I asked the manager and she kindly went to the back and found some Smuckers Jelly.
CVS Shopping Trip
2 x Smuckers Strawberry Jelly on sale at 2 for $5 – $1/2 Smuckers Jelly Coupon (RP 11/6) = $4
– $4 CVS Extra Bucks from my last CVS shopping trip.
Total out of pocket $0
Total saved $8.38
$3 CVS Extra Bucks Back from Jelly
$1 CVS Extra Bucks Back from Green Bag Tag
2nd Transaction
Arm & Hammer Laundry Detergent on sale at $2.99
– $3 CVS Extra Bucks from previous transaction
Subtotal – $0.01
Tax $0.18
Total out of pocket $0.17
Total saved $6.90
$1 CVS Extra Bucks Back
My CVS Weekly Spending
Total OOP $0.17
Total Saved $15.28
$2 CVS Extra Bucks Back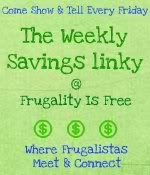 I would love to see how you did on your grocery shopping this week. Come link up at the

Weekly Savings Linky

at Frugality Is Free every Friday!