I did not want to do any grocery shopping this week, since I had all three of my boys home. However, my boys went through all of our bread, and since Publix was right next to CVS, I went in to grab some bread and free movie rentals. I also picked up a few Publix BOGO deals, and amazingly I shopped at Publix without using a single coupon.
My Publix BOGO Shopping Trip
4 x Whole Wheat Lenders Bagels on BOGO sale at 2 for $2.19 – $4.38 ($1.10 each)
Publix Lemonade on sale at $2.50
Publix Whole Wheat Bread $1.79
Publix Garbage Bags $3.59
Tax $0.36

Total out of pocket $12.62
Total saved $4.87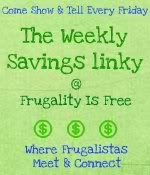 I would love to see how you did on your grocery shopping this week. Come link up at the

Weekly Savings Linky

at Frugality Is Free every Friday!