This morning I headed for Publix early, because this is the best time to get grocery shopping done fast. I had my detailed grocery list, my stack of coupon and my calculator, so that I did not get any surprises at the check out. I did not purchase any fruits or vegetables at Publix, because I will be headed for Sedanos and Aldi tomorrow, and the produce is much cheaper there than at Publix. I checked out the Publix Halloween clearance sale, but the prices were still high for me. I did pick up a big bag of small lollipops that will be perfect for kids goody bags, so that went into the party box.
My Publix Shopping Trip
10 x TGI Friday's Entrees For One on BOGO sale at 2 for $3.69 = $18.45
– (5 x $1/2 PC from Yel. Adv. and 10 x $1 MF TGI Friday coupons SS 10/23/11) = $3.45 ($0.35 each)
3 x Silk Soy Milk @ $2.50 each = $7
6 x Green Giant Valley Fresh Steamers on BOGO sale at 6 for $2.59 x 3 = $7.77
– (3 x $1/2 on bag and 2 x $0.75/3
Target Coupon
) = $3.27 (
$0.55 each
)
(If you don't have the on product coupons use $0.50/2 from GM 10/2/2011 or GM 9/11/2011)
2 x
Phazyme
@ $3.49 each = $6.98 – (1 x$1 and 1 x $2 Phazyme Coupons and $5/2
Phazyme Target Coupon
) =
FREE
($1.02 Overage)
St. Ives Apricot Scrub $3.79
2 x Kraft Barbecue Sauce on BOGO sale at 2 for $1.65 = $1.65 ($0.83 each)
2 x Vlasic Pickles on BOGO sale at 2 for $3.09 ($1.55 each)
2 x Publix Soda on sale at $0.50 each = $1
3.72 lbs of Boneless Skinless Chicken Breast, $1.99/lb $7.40
Charms Mini Pops big bag on Halloween clearance at 50 percent off $2.15
– 2 x $3 off $30 Publix Coupon from Publix Calendar
Total out of pocket $23.47
Total saved $82.98
Where ToGet Publix coupons:
Recyclebank:
Sometimes you can get Publix coupons and Doris coupons at
Recyclebank
. If you are new to Recyclebank, or if you are interested in signing up, make sure to check out my
Recyclebank Guide
to get the most out of your Recyclebank account.
Facebook:
Right now you can get a
$3/$30 Publix coupon
mailed to your house, when you enter the Publix Nutrition and Fitness Challenge.
Coupon Lingo:
NLA: No longer available
RP: Red Plum coupon insert
SS: Smart Source coupon insert
TC: Target coupon
DC: Doris coupon
MF: Manufacturer coupon
IP: Internet Printable
BOGO: Buy One Get One Free
B3G1: Buy 3 Get 1 Free
Yel. Adv: Publix Yellow Advantage Flyer
Gr. Adv: Publix Green Advantage Flyer
Don't forget that you can win groceries right here at Frugality Is Free
**Look at the sidebar for grocery giveaways here at Frugality Is Free. **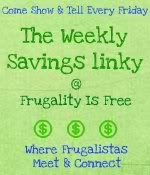 I would love to see how you did on your grocery shopping this week. Come link up at the

Weekly Savings Linky

at Frugality Is Free every Friday!