I made a quick stop at CVS this morning, because I had to roll CVS Extra Bucks before they expired on December 25th. These were all Extra Bucks that I received from my Black Friday CVS shopping trip, and since then I have only been able to roll a few due to lack of deals and motivation.
So today, I had to roll as many CVS Extra Bucks as possible, but I also wanted to get items that my family could actually use. Amazingly we were down to two big toothpastes (and a few small ones), so I was excited to be able to throw in a couple of free toothpastes in my CVS shopping trip. I had originally planned on purchasing some holiday candy later on this week, but I made a last minute decision to skip my Target and Aldi trip later on. With three boys home, I just don't want to shop any more than I have to, and I know I will be doing a lot of shopping with them, once the after Target Christmas clearance sale starts.
I am very thankful to Cheryl at Simply CVS, because she has some great posts that helped me get the most of my
CVS Extra Bucks
.
My CVS Extra Bucks Shopping Trip:
3 x Hershey's Candy @ $2.50 each = $7.50 – (B2G1 Hershey's Coupon SS 12/11) = $5 (Get $2 ECBs Back)
Buy 2 x Crest Pro Health Toothpaste ( 2 x $2 Crest/Oral B Coupon SS 9/11) = $1.99 (Get $2 ECBs Back)
1 x Band Aid decorative at $2.99 – $1
Band Aid coupon
= $1.99 (2 ECBs Back)
Conair Simple Cut Haircut Kit on sale at $9.99 ($5 ECBs back)
– $17.96 CVS Extra Bucks from CVS Black Friday shopping trip
Tax $1.53
Total out of pocket 4.22
Total saved $33.73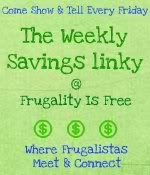 I would love to see how you did on your grocery shopping this week. Come link up at the

Weekly Savings Linky

at Frugality Is Free every Friday!