Besides a great
Black Friday CVS shopping trip
, it feels as if the CVS deals have been drying out, and I have had a hard time rolling CVS bucks. Thanks to rainchecks, and help from Simply CVS I actually made it out of CVS with some great deals today. I love the CVS raincheck policy, because not only is CVS nice about handing out
CVS rainchecks
, but the best part is that CVS rainchecks never expire. Today I used a CVS raincheck from April, and I was so excited to finally get to use it.
I have a lot of CVS Extra Bucks left from my Black Friday shopping trip, and I do not want these to expire on me, so I have to make sure to use them, or even better yet roll them over, before December 25th. My total CVS Extra Bucks was $23.45 before I went into CVS today, and it was $23.47 when I let the store.
I am so excited to have a great CVS shopping trip, but I could not have done it without the help and knowledge from Cheryl at Simply CVS. Cheryl has taught me everything I know about CVS rainchecks and
how to use CVS Extra bucks
and CVS rainchecks use.
My CVS Raincheck Shopping Trip:
5 x Reach Tooth Brush on sale for $1 each after CVS Raincheck = $5 – (5 x $1 Reach Coupons SS 4/17)(Saved $19.85) = FREE ($2 CVS Extra Bucks for Buying Reach Products)
4 x Glade Air Freshener on sale for $0.99 each after CVS Raincheck = $3.98 – (2 x $2/2 Glade Coupons) = FREE
Luvs Diapers on sale at $6.99 – $4 CVS Coupon off Diapers and wipes = $2.99 ($2 CVS Extra Bucks Back)
CVS wipes $0.99
Candy Canes $1.27 ($1.27 CVS Extra Bucks Back)
8 x 10 Photo Collage $6.99 – $6.99 Facebook CVS Photo Coupon = FREE
– $5.25 CVS Extra Bucks
Tax $0.86
Total out of pocket $0.86
Total saved $52.05
$5.27 CVS Extra Bucks Back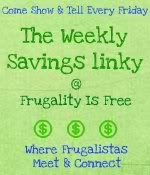 I would love to see how you did on your grocery shopping this week. Come link up at the

Weekly Savings Linky

at Frugality Is Free every Friday!