My husband was out of his favorite Jergens lotion, so I was excited to see that Publix had a 25 percent off Jergens sale that I could combine my Jergens coupons with I even managed to get bottles with 25 percent extra in, so that was an added bonus. Of course the lotion was snatched up, before I could get it in the picture. Other than that I just picked out a few deals such as free Panko bread crumbs, plus picked up some milk and my family's favorite Publix lemonade.
I did not even have to look at the Publix produce section, because I got my produce at Aldi yesterday, and I still have leftovers from last week.
I ended up only using one of my $5 off $50 Publix coupons from the Publix calendar, so I passed on my remaining coupons to other Publix shoppers.
It was amazing to see how excited they all were, and it reminded me of how much couponing has changed since I started couponing ten years ago. Although the rules have become stricter (surely thanks to the Extreme Couponing show), the way most of the other customers in the store views coupons have changed to a more positive note.
My Publix Shopping Trip
4 x Jergens Moisturizer 10 oz on sale at $2.79 x 4 = $11.16
– (2 x $3/2 Jergens Coupons SS 12/4) = $5.16 ($1.29 each)
Clorox 2 Stain Pen $2.65
4 x Kikkoman Panko 8 oz $2.29 = $9.16
2 x Betty Crocker Premium Brownie Mix on sale at $1.50 each = $3
6 x
Post Honey Bunches of Oats Cereal
on BOGO sale at 2 for $3.99 = $11.97- (3 x $1/2 Post
Honey Bunches of Oats Coupons
SS 11/6) = 8.97 (
$1.50 each
)
2 x
Chi-Chi's cheese
4 pack on sale at $2 = $4 – ($1/2
Chi-Chi's coupon
) = $3 (
$1.50 each
)
2 x Scotch Bubble Mailers at $0.89 each = $1.78
– ($1 Scotch Bubble Coupon (PC) from Winter Savings Booklet) = $0.89 ($0.39 each)
2 x Scotch Bubble Mailers at $0.69 each = $1.38
– ($1 Scotch Bubble Coupon (PC) from Winter Savings Booklet) = $0.38 ($0.19 each)
Silk Soy Milk 2/$5
2 x Publix 2 liter soda on BOGO sale at 2 for $0.89 ($0.45 each)
Publix lemonade 1 gallon $2.99
– $5 Publix Coupon from Publix Calendar
Tax $1.30
Total out of pocket $23.29
Total saved $56.80
Where To Get Publix coupons:
Recyclebank:
Sometimes you can get Publix coupons and Doris coupons at
Recyclebank
. If you are new to Recyclebank, or if you are interested in signing up, make sure to check out my
Recyclebank Guide
to get the most out of your Recyclebank account.
Facebook:
Right now you can get a
$3/$30 Publix coupon
mailed to your house, when you enter the Publix Nutrition and Fitness Challenge.
Publix Stocking Spree Booklet
: Get 64 worth of Publix coupons
The Newspaper:
Check out your local newspaper, I find $5 off $50 Doris coupons quite often, in a small Doris ad in the Sunday paper. Sometimes you can also find Publix coupons in the paper.
The turnstile:
Look for Publix coupon booklets in the turnstile at Publix.
Competitor Coupons:
Publix accepts competitor coupons, which can be combined with manufacturer coupons.My local store accepts Doris, Sedano's, Target and Winn-Dixie, but ask at your local Publix what competitor coupons they accept.
Coupon Lingo:
NLA: No longer available
WYB: When You Buy
RP: Red Plum coupon insert
SS: Smart Source coupon insert
TC: Target coupon
DC: Doris coupon
MF: Manufacturer coupon
IP: Internet Printable
BOGO: Buy One Get One Free
B3G1: Buy 3 Get 1 Free
Yel. Adv: Publix Yellow Advantage Flyer
Gr. Adv: Publix Green Advantage Flyer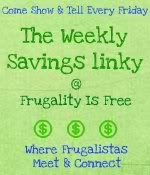 I would love to see how you did on your grocery shopping this week. Come link up at the

Weekly Savings Linky

at Frugality Is Free every Friday!