With all three boys home this week, I decided to skip the trip to Aldi for a second week in a row. I really did not do a lot of shopping this week, because shopping with three boys unless it is absolutely necessary is just not my cup of tea. Instead I planned out a couple of quick trips, where I could easily run in and out of the store while my husband were waiting for the kids.I did up spending my full allotted budget of $60 though, since I bought 6 packs of diapers.
See my:
I spent $18.86 at Publix
I Saved $22.83 at Publix
I spent $4.22 at CVS
I Saved $33.73 at CVS
I Got $11 CVS Bucks Back
See my:
My Walgreens Savings Trip
I spent $35.66 at Walgreens
I Saved $34.70 at Walgreens
My Target Savings Trip
I spent $1.94 at Target
I Saved $5.46 at Target
Groceries for a family of 5:
Total spent this week $60.68
Total saved this week $93.20
This week's clothing and extra purchases:
Total spent this week $0
Total saved this week $0
Total Out of Pocket This week:
Total spent this week $60.68
Total saved this week $93.20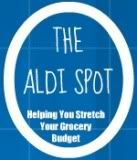 Check out the Aldi spot for a
Price Comparison List
between Aldi, Target, Publix, Winn-Dixie and Walmart.
You can also find lots of great printable coupons at my coupon database My Best Printable Coupons.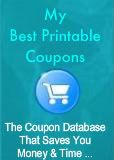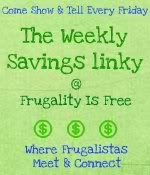 For more places to link up your
grocery savings
check out the
Weekly Savings Linky Collection
, and if you have a giveaway on your blog don't forget to enter it at the
Fantastic Friday Giveaway Linky
.
I would love to hear how you did on your savings this week?
Please list name of blog, savings, name of store below.