I just went to Target this morning to get my youngest son's portrait photos taken, and while I was there I picked up a last minute deal on
Ore-Ida Fries
with
Ore Ida coupons
.
This deal ends 12/31, so make sure to print a lot of great coupons to go with the $1/3 Ore-Ida coupon.
Otherwise, if you get your coupons early, then this deal is a hot deal today!
Target Shopping
Buy 3 x Ore Ida Fries on sale at $2.50 each = $7.50
Use $1.50/3 Ore Ida Target Coupon (SS 12/4)
Total out of pocket $3
I also bought a
TGI Fridays entree $1.99
– $0.05 Reusable bag discount
Total out of pocket $2.94
Total saved $8.87
One bag of Ore Ida Fries cost $3.75 at Publix, so this is definitely a great deal!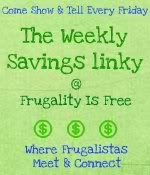 I would love to see how you did on your grocery shopping this week. Come link up at the

Weekly Savings Linky

at Frugality Is Free every Friday!