After a long
Target Christmas Clearance
shopping trip with three boys in two, I was relieved when my husband came and took the two oldest boys, so that I could finish up my Publix shopping trip faster ….and in quiet. I am so excited to finally have found a BOGO sale on Pace salsa with coupons, so I ended up picking up 10 jars of salsa for the pantry. I also bought 3 gallons of Publix orange juice, because it was on sale, which will hopefully last us next week as well. I already bought a lot of produce and
meat at Aldi
yesterday, so I just had to pick up the deals at Publix.
My Publix Coupon Shopping Trip
4 x Welch's 100% Grape Juice on BOGO sale at 2 for $3.99 = $7.98
– (2 x $0.50 Welch Grape Jam coupons on jam (see below) = $6.98 ($1.75 each)
2 x Welch Grape Jam at $2.39 = $4.78
– (2 x Free Welch Grape Jam wyb 2 Welch Grape Juice Coupons Publix Yel Adv.) = FREE
Trop50 Lemonade 59 oz on sale at $2 each = $4
10 x Pace Salsa on BOGO sale at 2 for $2.79
– (5x $1/2 Pace Salsa Coupon – Share Something Delicious Coupon Booklet) = $1.79 x 5 = $8.95 ($0.90 each)
2 x Solo Plastic Cups and Plates on BOGO $3.29
– (2 x $0.75 Solo Coupon SS 12/4 + $1/2 Solo Publix Coupon Winter Family Savings Booklet) = $0.79 ($0.40 each)
3 x Publix Orange Juice 1 gal $3.99 (reg $4.99) = $11.97
Johnson and Johnson Gauze $1.99
Green Beans $1.19
Zucchini $1.45
Hass Avocados $1
– $5 Doris Coupon (Publix Competitor coupon from
Recyclebank
)
Tax $0.44

Total out of pocket $31.76
Total saved $53.24
Where To Get Publix coupons:
Recyclebank:
Sometimes you can get Publix coupons and Doris coupons at
Recyclebank
. If you are new to Recyclebank, or if you are interested in signing up, make sure to check out my
Recyclebank Guide
to get the most out of your Recyclebank account.
Sign up for Publix Competitor newsletters:
You can sign up to get
Doris Coupons
with the Doris newsletter on the main page in the sidebar. Do the same with any store, that your local Publix accept competitor coupons from.
Publix Stocking Spree Booklet
: Get 64 worth of Publix coupons
The Newspaper:
Check out your local newspaper, I find $5 off $50 or $2 off $25 Doris coupons quite often, in a small Doris ad in the Sunday paper. Sometimes you can also find Publix coupons in the paper.
Coupon Lingo:
NLA: No longer available
WYB: When You Buy
RP: Red Plum coupon insert
SS: Smart Source coupon insert
TC: Target coupon
DC: Doris coupon
MF: Manufacturer coupon
IP: Internet Printable
BOGO: Buy One Get One Free
B3G1: Buy 3 Get 1 Free
Yel. Adv: Publix Yellow Advantage Flyer
Gr. Adv: Publix Green Advantage Flyer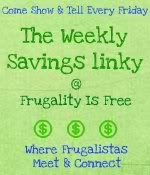 I would love to see how you did on your grocery shopping this week. Come link up at the
Weekly Savings Linky
at Frugality Is Free every Friday!