I just came home from Target, and so far Target is following the
Target Christmas clearance dates
that I had estimated earlier on. I am predicting that most Target stores will mark their Christmas clearance to 75 percent off Thursday morning, but there may be some exceptions.
All Christmas decorations and a few gourmet candy/cookie items were 50 percent off
All Christmas Wrapping Papers was 50 Percent Off – Most were marked down to $2.50
All Christmas candy was 30 percent off
I went to a high-traffic Super Target today, and there were still plenty of Christmas products left.
I picked up a couple of M&Ms for my boys, and then I picked up a couple of Hot Wheels at 50 percent off, because there were only two packages left, so I knew they would be gone by 75 percent off. The Hot Wheels will go in my gift box for birthdays or next Christmas, and the M&Ms will be saved for the next movie night.
My Target Christmas Clearance Shopping Trip
Strawberries $1.99
2 x Hot Wheels 5 packs on clearance at Target for $2.49 each = $4.98
4 x M&Ms holiday candy on clearance at $0.99 each = $3.96 – (2 x $1/2 Mars Holiday Candy Coupons) = $1.96 ($0.49 each)
– $0.10 in Reusable Bag Discount
Tax $0.54
Total out of pocket $7.33
Total saved $13.05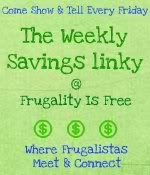 I would love to see how you did on your grocery shopping this week. Come link up at the Weekly Savings Linky at Frugality Is Free every Friday