I went to Target this morning hoping that they would have started marking the Target Christmas clearance up down to 75 percent off, but it was still at 50 percent off without any signs of being marked further down. Toys were also still at 15 – 30 percent clearance, so no changes there. I will be headed for a different Target store tomorrow morning, and I am still hoping to catch the 75 percent off Target Christmas clearance. The good news is that there were a lot of Christmas stuff left, in fact not much had disappeared.
I did pick up a couple of clearance deals that I had been waiting for.
My Target Shopping Trip

Up & Up Cleaners 4 pack (Same as Mr. Clean Erasers) @ $2.89 – $1 Target Cleaning Coupon = $1.89
Ritz Chocolate Covered on Christmas clearance at $1.39 – $1 Nabisco crackers coupon IP NLA = $0.39
Scotch Scissors on clearance at $2.50 – $1 Scotch Scissors Coupon SS 8/7 (Exp. 12/31) = $1.50
Minute Maid Punch on sale at $0.99
– 0.10 Reusable bag discount
– $1.42 Target Gift Card Balance from a previous Target trip
Tax $0.39
Total out of pocket $7.46
Total saved $13.15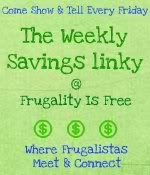 I would love to see how you did on your grocery shopping this week. Come link up at the
Weekly Savings Linky
at Frugality Is Free every Friday!