I made a quick stop at Target this morning, but I did not purchase much. Apparently, they were expecting a truck and they were out of several items on my Target shopping list. I did pick up a Target money maker though, and I now have a gift card for next time I make it to Target. Some of you may have a $2/1 Curel from the 12/4 newspaper, but unfortunately I only got $1/1. The $1 Curel coupons were still able to turn this deal into a Target money maker though.
1st Transaction
2 x Curel 6 oz @ $2.99 = $5.98 – (2 x $1 SS 12/4) = $3.98
– $-0.05 reusable bag discount
tax $0.06
Total out of pocket $3.99
Total saved $7.05
$5 Target gift card back
Transaction 2
Up & Up Eraser (Magic erasers for cleaning) $2.89 – $0.50 Target Cleaning Coupon = $2.39
Total $2.39
– $5 Target Gift Card from previous transaction
Total out of pocket $0
Total saved $2.89
($2.51 left on gift card)
Total spent at Target $3.99
Total back $2.51
Total saved at Target $9.94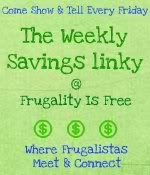 I would love to see how you did on your grocery shopping this week. Come link up at the

Weekly Savings Linky

at Frugality Is Free every Friday!