This afternoon I made a quick stop at CVS on my way to the park with the boys, and I sure am glad I did. I was able to get $1 All Detergent at CVS, a deal that does not come around often. The 50 oz All 2x Sunshine Energy with bleach alternative is on sale at 2 for $4. Use $1/1 All Detergent in the 1/1 Red Plum insert and you get them for $1 each.
This deal counts toward the Spend $30, get a $10 gift card back.
Since I had the boys with me, I also picked up some candy at the 75 percent off CVS Christmas clearance sale. I used some of my many CVS extra bucks to get the all laundry detergent for free and just pay tax. I still have lots of CVS Extra Bucks left, but when a deal like this one comes around I am very happy that I have so many.
My CVS Extra Bucks Shopping Trip
4 x All detergent at $2 each = $8 – (4 x $1 All detergent coupon) = $4
3 x Christmas candy at 75 percent off for $0.25 each = $0.75
1 x M&Ms Christmas at 75 percent off for $0.99
1 x Twix Peanut at $0.75 ($0.75 CVS Extra Bucks Back)
1 x CVS Vitamin D at $3.49 ($3.49 CVS Extra Bucks Back)
– $10 CVS Extra Bucks from previous shopping trips
Tax $0.62
Total out of pocket $0.62
Total saved $42.61
$4.24 CVS Extra Bucks back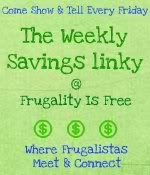 I would love to see how you did on your grocery shopping this week. Come link up at the
Weekly Savings Linky
at Frugality Is Free every Friday!