I went to
Publix
early this morning to pick up some
cheap Flintstones vitamins
at Publix and a few other deals, and I also hoped to get some cheap snacks for the kids. I ended up spending more money on meat than usual, because Aldi did not have much meat yesterday, and this is where I usually buy meat. I am also expecting coffee drinking visitors in the next month or so, so I made sure to pick up lots of coffee.
My Publix Shopping Trip:
2 x
8 O'clock Coffee
on BOGO sale at 2 for $6.67 – $2
8 O'Clock Coupon
= $4.67 (
$2.34 each
)
3 x
Flintstones Vitamins
was $6.99 – 25% off = $5.24 = $15.72 (3 x $2
Flintstones Target Coupon
and 3 x $2 MF SS 1/1) = $3.72 (
$1.24 each
)
4 x Tostitos Tortilla Chips,on BOGO sale at 2 for $4.99 = $9.98 + 1 x Tostitos salsa at $3.49 and 1 x Tostitos queso at $3.69 = $17.16 – (2 x Free Salsa Tostitos Coupons wyb 2 Tostitos Chips (hangtags) + 2 x $2 off Tostitos Dip wyb 2 Tostitos chips Publix coupon Yel. Adv.) = $5.98 ($1 each)
4 x
Nabisco Snackwell Cookies
on BOGO sale at 2 for $3.19 = $6.38 – (4 x $1
Snackwell coupons
) = $2.38 (
$0.69 each
)
3 x Mentos UP2U Gum on sale at $1.09 each = $3.27 – (3 x $1 UP2U Coupon SS 1/1) = $0.27 ($0.09 each)
2 x packages of Boneless Chicken Breast on BOGO sale at 2 for $9.04 ($4.52 each)
Bolthouse farms dressing on sale at $2.50
Shoulder Roast $8.39
2 x Publix Orange Juice at $3.99 each = $7.98
Gala Apples $2.99
– $5 Doris Coupon (Publix competitor coupon)
Total out of pocket 43.08
Total saved $82.03
Where To Get Publix coupons:
Recyclebank:
Sometimes you can get Publix coupons and Doris coupons at
Recyclebank
. If you are new to Recyclebank, or if you are interested in signing up, make sure to check out my
Recyclebank Guide
to get the most out of your Recyclebank account.
Sign up for Publix Competitor newsletters:
You can sign up to get
Doris Coupons
with the Doris newsletter on the main page in the sidebar. Do the same with any store, that your local Publix accept competitor coupons from.
Publix Stocking Spree Booklet
: Get 64 worth of Publix coupons
The Newspaper:
Check out your local newspaper, I find $5 off $50 or $2 off $25 Doris coupons quite often, in a small Doris ad in the Sunday paper. Sometimes you can also find Publix coupons in the paper.
Coupon Lingo:
NLA: No longer available
WYB: When You Buy
RP: Red Plum coupon insert
SS: Smart Source coupon insert
TC: Target coupon
DC: Doris coupon
MF: Manufacturer coupon
IP: Internet Printable
BOGO: Buy One Get One Free
B3G1: Buy 3 Get 1 Free
Yel. Adv: Publix Yellow Advantage Flyer
Gr. Adv: Publix Green Advantage Flyer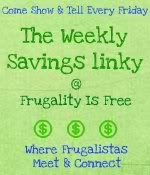 I would love to see how you did on your grocery shopping this week. Come link up at the
Weekly Savings Linky
at Frugality Is Free every Friday!