Last week I unsuccessfully attempted to use my $0.99
Coke Zero Coupon
at CVS to get a great deal on
Coke Zero at CVS
. However, the coupon did not scan, and I was basically told that it was fraudulent. I called customer service, who told me that if it did not scan the coupon would not be accepted. When I got home, I went to the Coke Zero Facebook page, which is where I got the coupon from in the first place, and it turned out that everyone had the same problem at CVS.
I did use a Coke Zero coupon at Publix with no problems, but I had one Coke Zero coupon left, so this morning I called to CVS customer service just to check if the problem had been solved. I was told that the problem should have been resolved, that they were aware of the problems, and that I could now use the Coke Zero coupon at CVS with no problems.
After the making the call, I headed for CVS and the playground, but of course the coupon would still not scan. Fortunately this was my favorite CVS store with my favorite CVS manager, and she pushed it through when I said I had talked to CVS customer service.
Now, you can use your Coke Zero coupon at your CVS store, just do the following.
Call CVS Customer Service at 1-800-746-7287
Say Agent
Confirm with them that the Coke Zero coupon problem at CVS has been resolved
Go to your CVS store and get Coke Zero at $2.50 each (or get a raincheck if they are out)
If the coupon will not scan, ask for the manager and tell them what customer service said.
If they still will not accept the coupon, ask th.em to call their CVS help desk, or call CVS customer service yourself while you are in the store (they will then call the manager).
The magic number is 1-800-746-7287 (find it at the back of your CVS card)
Is it a lot of trouble to go through to get cheap Coke Zero at CVS….yes it is! However, saving money is never easy, and if you like Coke Zero, $1.51 for a 12 pack is a fantastic deal.
My CVS Coke Zero Shopping Trip
Tax $0.27
Total out of pocket $1.78
Total saved $6.76
$1 CVS Extra Buck Back
from using the Green Bag Tag.
You can get your Coke Zero coupons here.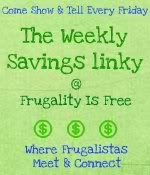 I would love to see how you did on your CVS shopping this week. Come link up at the
Weekly Savings Linky
at Frugality Is Free every Friday!
If you did not get your Coke Zero coupons, you can get your Coke Zero coupons here.