I had a very confusing shopping trip today, so my totals are not adding up this week. The cashier messed up the transaction completely, and it does not make any sense, so my totals are a bit off. I do know that I ended up with less Extra Bucks than I had first calculated, and he also threw in two boxes of extra Skinny Cow candy. I did end up paying close to the same out of pocket amount as I had planned on, so I left without complaining. Sometimes life is just too short to be bothered….even for a frugalista.
If anyone is wondering, the CVS Christmas clearance was still at 50 percent off.
My CVS Extra Bucks Shopping Trip
1 x 3 pack Kleenex $4.89 (- $0.50 Kleenex coupon and $2 CVS Kleenex coupon)
4 x Nivea Lip Care on sale at $2.50 each = $10 – $3/2 Nivea Coupons in RP 1/1)
Colgate Advanced Toothpaste on sale at $2.74 – ($1 CVS Colgate coupon and $0.75 Colgate coupon from SS 1/1)
Zyrtec 4 count with raincheck $5.99 – $3 Zyrtec Coupon
– $9 CVS Extra Bucks
Tax $0.85
Total out of pocket $1.22
Total saved $41.03
$6.50 CVS Extra Bucks Back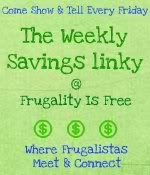 I would love to see how you did on your grocery shopping this week. Come link up at the
Weekly Savings Linky
at Frugality Is Free every Friday!