I am absolutely horrified by the amount of money that I spent this week, and I am not looking forward to seeing my totals. Still being able to spend the money, when I need to spend it to get the deals helps my family's budget in the long run. I was able to purchase all of my niece's and nephews' birthday and Christmas gifts, which means they can be sent abroad with visitors instead of being sent via mail, which will cost about $100. We are hoping for lots of visitors this year, and I am only missing a few gifts for my sister-in-laws before I am done shopping for our extended family for both birthdays and Christmas. I also got a lot of my boys' birthday and Christmas shopping done, which I am very excited about.

Still, for a frugalista, I surely spent a lot of money this week.
You can see the details of my shopping trips by clicking on the titles or the images.
See my:
I spent $31.28 at Aldi
See my:
I spent $67.09 at Publix
I saved $70.45 at Publix
I spent $110.11 at Target
I Saved $268.56 at Target

See my:
My CVS Savings Trip
I spent $0.62 at CVS
I Saved $42.61 at CVS
I Got $4.24 CVS Extra Bucks Back
My Savings Totals
Groceries for a family of 5:
Total spent this week $89.11
Total saved this week $132.13
This week's clothing and extra purchases:
Total spent this week $119.99
Total saved this week $266.49
Total Out of Pocket This week:
Total spent this week $209.10
Total saved this week $398.62
You can find lots of great printable coupons at my coupon database
My Best Printable Coupons
.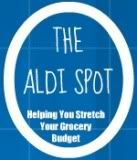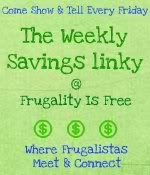 For more places to link up your
grocery savings
check out the
Weekly Savings Linky Collection
, and if you have a giveaway on your blog don't forget to enter it at the
Fantastic Friday Giveaway Linky
.
I would love to hear how you did on your savings this week?
Please list name of blog, savings, name of store below.