I am so excited, because today I found some great on package
Target meat coupons
. These Target meat coupons are pretty random, but I always make sure to look in the meat section every time I am at Target. I found $1 off stickers on the ground beef, chicken legs and on the ground pork. I also found a great deal on a Microscope for my oldest son, which is something he has been wishing for, and it will work great as a birthday gift. The fishing rod was not something I really wanted to get, but my middle son is turning six soon, and he has asked for his own fishing rod. We have a couple of regular fishing rods, but my son wished for one of these cheap kids ones, so when I found a Star Wars fishing rod on clearance at $3.88, I figured I might as well just fulfill his wish.
It was a great Target deals trip today, which included a $0.60 t shirt for me, and some cheap exercise pants. I could have gotten two of the $0.60 t shirts, but my goal was to find a pair of exercise pants, so I was thrilled to find some on clearance, which I could use the $3 Merona coupon on.
My Target Deals Shopping Trip
Up & Up Vitamin C drops
on sale at $1.39 – $1
Target Coupon
=
$0.39
Up & Up Vitamin C drops on sale at $1.39 – $1 Target Coupon = $0.39
Gerber Training pants on clearance at $2.38 (Was $7.99)
Merona Exercise pants
on clearance at $7.48 – $3
Merona coupon
=
$4.48
(Was $14.99)
Merona T Shirt
on clearance at Target for $3.60 – $3
Merona coupon
=
$0.60
(Was $12)
4 x 1 lb packages of Gound Chuck on sale at $2.58 – $1 on package Target meat coupon = $1.58 each = $6.32
Star Wars Fishing Rod on clearance at $3.88 (Was $12.99)
Celestron Microscope Kit on clearance at $11.98 (Was $39.99)
– 0.20 in Target Reusable bag discount
Tax $2.09
– $0.72 Gift Card Balance from previous Target promotion
Total out of pocket $43.17
Total saved $77.99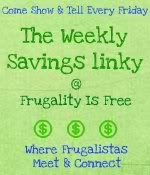 I would love to see how you did on your grocery shopping this week. Come link up at the
Weekly Savings Linky
at Frugality Is Free every Friday!

Did you find any Target meat coupons at your local Target store lately?