Since Aldi shocked me by increasing their egg price to $1.99 for a dozen of eggs, I have been searching everywhere for a decent price on eggs. Target had them for $1.59, and Publix had a dozen of eggs for $2.19. None of these prices appealed to my frugal budget, so when I saw the $1.29 sale on eggs at Walgreen's I got excited. Still, there was one catch….I am not a fan of Walgreen's, because our local Walgreen's stores are horrible with customer service in every aspect. The deal has to be extremely great in order for me to enter, because I know that I will leave Walgreen's frustrated. This is where Target price matching comes in handy, because while Target price matching can be a bit complicated, it is possible to do price matching at Target.
Target Price Matching:
Target will match a product found in a competitor's ad for the same identical product.
The product has to be exactly the same, so if a cheese pizza is shown, you cannot choose a pepperoni pizza, even if it is the same brand. The only exception is, if the ad states pepperoni in the wording,
You have to bring the entire competitor ad to Target's customer service in order to get the price matching.
If you have already purchased a product at Target but found a valid competitor ad with the same product, you can bring the current competitor ad and your Target receipt within 7 days of purchase to get a refund.
You can use coupons on the price matching product.
So, I brought the Walgreens ad into Target, and although their eggs had a different carton than the eggs shown in the photo of the Walgreens ad, the Walgreens ad did not specify brand, and it was the same exact size as the Target eggs. The regular price for a dozen eggs at Target was $1.59, but by doing Target price matching with Walgreens, I was able to get the price down to $1.29 per dozen of eggs. I bought three dozen, which meant I saved $0.90, which may not seem like a lot, but it all adds up.
My Target Price Matching Trip:
3 x Dozen eggs reg. $1.59 each, price matched to $1.29 each = $3.87
Market Pantry Mac N Cheese $0.74 – Target Mac N Cheese coupon = Free
Eco Tools Bath Sponge $1.04 – $1 Eco Tools coupon = $0.04
– $0.10 in Target Reusable bag discount
Tax $0.24
Total $4.05
– $3.93 in Target Gift Cards from a previous Target shopping trip
Total out of pocket $0.12
Total saved $6.43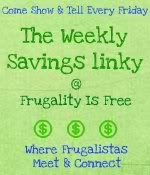 I would love to see how you did on your grocery shopping this week. Come link up at the
Weekly Savings Linky
at Frugality Is Free every Friday!
Have you ever tried Target price matching?