I had not been to CVS in almost a month, so I had $16 in
CVS Extra Bucks
that expired today, and although I wanted to roll some of them, my main mission was to get soda for my son's upcoming birthday party.
Thanks to Cheryl from Simply CVS, I was able to get a couple of
CVS deals
to roll my CVS Extra Bucks over on. I went to CVS on to separate occasions, to get all of the below, but today I just added it all together.
I was actually considering getting the soda at ALDI, because they sell 2 liters at $0.59 each. However, I had the CVS Extra Bucks that I needed to use, and I ended up spending less than I would have at Aldi and getting a lot more for my money…plus money back.
My CVS Extra Bucks Birthday Shopping
4 x Pepsi @ $0.99 each
3 x Sierra Mist @ $0.99 each
2 x Diet Pepsi @ $0.99 each
1 x Colgate Pro Relief Toothpaste $4.99 – $1 Colgate coupon SS 2/26 = $3.99 ($4 Back)
2 x Transformers Valentines cards on clearance at $0.75 each
1 x Tattoos set 24 ct party box/Valentines box on clearance at $0.99
2 x Pantene @ $3.49 = $6.98 – $3/2 Pantene coupon SS 2/26 = $3.98 $ ($1 CVS Extra Bucks Back)
Thermacare $3.79 ($3.79 CVS Extra Bucks Back)
Tax $1.53

Total out of pocket $4.68
Total saved $47.19
Total CVS Extra Bucks Back $7.79
While you are here, I want to remind you of the great
This giveaway is sponsored by Cheryl at Simply CVS to celebrate the site's two year anniversary.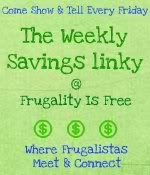 I would love to see how you did on your CVS shopping this week. Come link up at the
Weekly Savings Linky
at Frugality Is Free every Friday!

Do your CVS Extra Bucks end up expiring on you?