I did two Publix shopping trips this week, as I made a quick trip on the way home from the beach earlier this week. We still have visitors, so we are spending a lot of time on the beach ….and loving it!
I was finally able to pick up some of the Italian Days coupons, and I might make a second trip early next week, once I figure out the Italian Day sale. I have not been spending a lot of time on my grocery shopping list, but I am hoping that I'll be able to get some cheap beans or veggies at some point.
Today I just picked up some cheap Bertolli sauce and most importantly some great deals on Kraft shredded cheese. My freezer and fridge is completely packed, so there was no need to buy meat or produce at Publix.
My Second Publix Shopping Trip
4 x Sominex @ $3.19 each = $6.38
– (2 x $2
Sominex Coupons
and $5/2 Sominex Publix Coupon Green Adv.) =
FREE
($2.61 Overage)
2 x
Up2 Gum
at regular price $1.49 – $2.98 – (2 x $1 MF Up2 coupons SS 2/5 and $0.55
UP2 Target Coupon
=
FREE
(Overage $0.12)
2 x Marie's Yogurt Dressing on BOGO sale @ 2 for $3.29 – (2 x $1/1 Maries Coupon (IP)) = $1.29 ($0.65 each)
8 x
Bertolli Pasta Sauce
on sale at 2 for BOGO $2.89 = $11.56 – (4 x $1.50
Target Bertolli Coupons
) = $5.56 (
$0.70 each
)
Quaker Instant Oatmeal, on BOGO sale at 2 for $3.89 – ($1 MF Quaker Coupon IP and $0.50 Target Catalina coupon from checkout) = $2.39 ($1.20 each)
10 x
Kraft Shredded Cheese
on BOGO sale at 2 for $3.49 = $17.45 – (5 x $1/2
Kraft Cheese Target coupons
, 2 x $1.50/2 Kraft Shredded Cheese w/Philadephia Publix coupons and 3 x $0.50/2 MF Kraft Coupon) = $7.95 (
$0.90 each
)
Publix Pre-Sliced Bagel 4ct on BOGO sale at 2 for $1.69 ($0.85 each)
2 x 2 liter soda on BOGO sale at 2 for $1.89 ($0.95 each)
Publix soda 12 pack $2.99
Tax $0.45
Total out of pocket $18.57
Total saved $76.36
My First Publix Shopping Trip
Creme Chocolate Cake $7.09
Arnold Healthfull Bread on BOGO sale at 2 for $4.29 – $5 Healthfull Bread Coupon = FREE ($0.71 overage)
2 x Publix orange juice @ $3.99 each = $7.98
Total out of pocket $14.36
Total saved $9.29
Where To Get Publix coupons:
Recyclebank:
Sometimes you can get Publix coupons and Doris coupons at
Recyclebank
. If you are new to Recyclebank, or if you are interested in signing up, make sure to check out my
Recyclebank Guide
to get the most out of your Recyclebank account.
Sign up for Publix Competitor newsletters:
You can sign up to get
Doris Coupons
with the Doris newsletter on the main page in the sidebar. Do the same with any store, that your local Publix accept competitor coupons from.
Publix Stocking Spree Booklet
: Get 64 worth of Publix coupons
The Newspaper:
Check out your local newspaper, I find $5 off $50 or $2 off $25 Doris coupons quite often, in a small Doris ad in the Sunday paper. Sometimes you can also find Publix coupons in the paper.
South Florida:
Sign up for free newspapers with coupons here:
Free Sun Sentinel Deals Subscription
.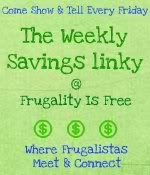 I would love to see how you did on your grocery shopping this week. Come link up at the
Weekly Savings Linky
at Frugality Is Free every Friday!
Did you pick up any of the Italian Days deals at Publix?