My family really did not need more cereal, because our pantry is full of cereal. Still, I could not stop myself when I discovered that one of my favorite cereals – Honey Bunches of Oats – had come out with a new cereal, that it was on sale and I had coupons.
One of the things I love about couponing is that I can splurge on products that my family otherwise could not afford. We try only to eat whole wheat breads, and while the regular bread was about $1 less, I could choose the healthier whole wheat bread, because I had a $3 off $30 Publix coupon.
One of the few impulse buys of the day was a Wonka party bags, which will work great for the goodie bags for my son's upcoming birthday party.
My Publix Coupon Shopping Trip
1 x Up2 Gum at regular price $1.49 –
6 x Morningstar Farms Burgers w/ raincheck BOGO deal at 2 for $4.39 = $13.17 –
1x One-A Day Scooby Doo Vitamins $5.69
– $1.42 (25% off with Publix Raincheck) = $4.27
– (1 x $2 One A Day Target Coupon and 1 x $2 One A Day Coupon SS 1/1) =$0.54 ($0.27 each)
6 x Honey Bunches of Oats Cereal on BOGO sale at 2 for $3.99 = $11.97
2 x Silk Milk at $3.39 = $6.78
Samabazon Acai Juice on sale at 2 for $4
Brillo 10 ct at $1.89 – $0.55 MF Brillo Coupon = $1.34
Publix Bagel 4ct on BOGO sale at 2 for $1.69 ($0.85 each)
Willy Wonka Party Bag on clearance at $2.19
Publix Whole Wheat Bread $1.79
Arnold Whole Wheat Buns $3.09
2 x Publix Orange juice @ $3.99 = $7.98
Publix lemonade $2.99
Granny Smith Apples 3 lb bag, $2.99
Florida Strawberries, 16 oz, 3/$5 = $1.66
Grape Tomatoes on sale at $1.50
Tax $0.36
Total out of pocket $39.38
Total saved $64.18
I also got 3 free movie rentals at the Blockbuster Express Kiosk, with free Blockbuster codes from Erewards.
Where To Get Publix coupons:
Recyclebank:
Sometimes you can get Publix coupons and Doris coupons at
Recyclebank
. If you are new to Recyclebank, or if you are interested in signing up, make sure to check out my
Recyclebank Guide
to get the most out of your Recyclebank account.
Sign up for Publix Competitor newsletters:
You can sign up to get
Doris Coupons
with the Doris newsletter on the main page in the sidebar. Do the same with any store, that your local Publix accept competitor coupons from.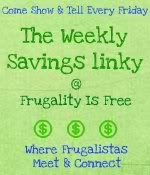 I would love to see how you did on your grocery shopping this week. Come link up at the
Weekly Savings Linky
at Frugality Is Free every Friday!
Do you remeber to get a Publix raincheck, whenever your store is out of an item on your list? Do you remember to use the raincheck before it expires? week?