I made a quick stop at CVS today, but I did not have any major savings. I am in the middle of making a baby basket, and I am also putting together some Easter packages to send to my niece and nephews, so I used my CVS Extra Bucks to get a few
CVS Easter freebies
.
My CVS Easter Freebies
Jelly Beans $0.99 ($0.99 Extra Bucks Back)
2 x Snickers Eggs @ $0.99 each = $1.98 – ($0.25 CVS coupon from scanner and $1/2 Mars Easter coupon) = $0.73 ($0.37 each)
CVS Baby Wipes @ 1.99
– $3.71 CVS Extra Bucks
Tax $0.30

Total out of pocket $0.30
Total saved $5.16
$0.99 CVS Extra Bucks Back
While you are here, don't forget to enter the
right here at Frugality Is Free.
This giveaway is sponsored by Cheryl at Simply CVS to celebrate the site's two year anniversary.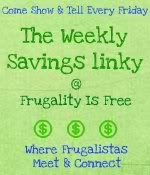 I would love to see how you did on your CVS shopping this week. Come link up at the
Weekly Savings Linky
at Frugality Is Free every Friday!