I completely forgot that my kids had a short week at school this week, so my grocery schedule got completely messed up. Today the kids were off at noon, and I wanted to make sure to squeeze in at least a trip to Target and Publix this morning. My plan was to walk home, because my husband had an appointment he needed to get to.
Just as I was entering Publix, he called to tell me that his appointment had been postponed half an hour, and that he could pick us up, if we finished shopping by 10:30 AM. This gave me 15 minutes to get my shopping done – 15 minutes to do grocery shopping, which I usually spend at least 45 minutes to do.
So, I had to do some speed shopping with a stroller in tow, but I got it done! The alternative would have been me walking home, but then I could not buy all the juice that I needed to.
Two downsides with speed shopping at Publix were that I spent more, because I did not have time to recalculate everything in the store. The South Florida Publix prices can be as much as $1 more per item than those prices listed at I Heart Publix, which I usually use to prepare my shopping list.
I had a $5/$50 coupon with me, and usually I try to get the amount as close to the $50 as possible before coupons. Since I was in a rush, I threw in a few extra items just to make sure that I got to $50. Of course, I had more than $50 worth of products before coupons, and even though I did put a few of my extra items back, I was still over the $50 because of the extra added South Florida price.
I got the deals I needed though, and tomorrow I am planning on heading to Aldi and Walmart to pick up meat and produce.
My Publix Grocery Shopping Trip
1 Gallon of Publix Lemonade $2.99
1 Gallon of Publix Orange Juice $3.99
6 x Juicy Juice 100% Juice on BOGO sale at 2 for $3.79 = Blend, 64 oz, BOGO $2.75 = $11.37 –  (2 x$1/3 Juicy Juice coupon IP) = $9.37 ($1.56 each)
Dole Pineapple 20 oz $0.99 x 2 = $1.99 – $0.50 Dole coupon = $1.49 ($0.75 each)
Ocean Spray Juice on BOGO sale at Target for $3.85 ($1.93 each) A new Ocean Spray coupon has just showed up, and if you print this BOGO Ocean Spray coupon you can get both juices for free….I'm definitely going back.
Lactaid Milk 2 for $7 – $1/2 Lactaid Coupon = $6 ($3 each)
2 x Ritz Bits on BOGO sale at 2 for $3.89 – $1/2 Nabisco Coupon IP and $1/2 Nabisco Target Coupon = $1.89 ($0.95 each)
4 x Toufayan Whole Wheat Flatbread on BOGO sale at 2 for $2.49 = $4.98 ($1.25 each)
2 x Ragu Pasta Sauce on BOGO sale at 2 for $2.67 – 2 x $0.50 Ragu coupons Unilever coupon and $1/2 Ragu Target Coupon = $0.67 ($0.34 each)
Edwards Turtle Pie on sale at 50 percent off at $4 – $0.75 Edwards' coupon  SS 3/25= $3.25
Kraft American Singles on sale at 2 for $4 – $1 Target Kraft coupon = $3 ($1.50 each)
– $5/$50 Doris Coupon from Recyclebank
Tax $0.42
Total out of pocket $37.38
Total saved $51.27
So, after I got home from my Publix shopping trip, I spotted this fantastic BOGO Ocean Spray coupon. It definitely weren't there the night before, when I was putting my final list together. I made sure to print a few of the coupons out, and then I made a quick stop at Publix this morning to pick up the free juice
My Free Ocean Spray Trip
3 x Ocean Spray Cranberry Juices on BOGO sale
3 x Ocean Spray Cherry Juices on BOGO sale
– 3 x BOGO Ocean Spray coupons
Total out of pocket $0.70
Total saved $23.10
Total spent at Publix $38.08
Total saved at Publix $74.37
Where To Get Publix coupons:
Recyclebank:
Sometimes you can get Publix coupons and Doris coupons at
Recyclebank
. If you are new to Recyclebank, or if you are interested in signing up, make sure to check out my
Recyclebank Guide
to get the most out of your Recyclebank account.
The Newspaper: Check out your local newspaper, I find $5 off $50 Doris coupons quite often, in a small Doris ad in the Sunday paper. Sometimes you can also find Publix coupons in the paper.
Red Plum Mailer
: Sign up for the
Red Plum mailer
, on rare occasions it will contain Publix coupons.
The turnstile:
Look for Publix coupon booklets in the turnstile at Publix.
Competitor Coupons:
Publix accepts competitor coupons, which can be combined with manufacturer coupons.My local store accepts Doris, Sedano's, Target and Winn-Dixie, but ask at your local Publix what competitor coupons they accept.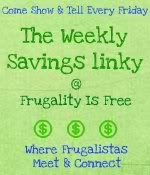 Come share your Publix savings at the
Weekly Savings Linky
at Frugality Is Free every Friday!