I went to Target today mainly to get Swedish Fish for my son's birthday cake. I did pick up a few other deals as well though, and I finally found new place mats at a reasonable price. They were on clearance at $0.98, but they scanned at $0.58 each, so I picked 8. This way we have a new set of place mats, once this set has done its time. I also got Kleenex for $0.25, because Target had Kleenex on sale and I had $1 Kleenex coupons from this past Sunday's Smartsource insert. I think this might be a regional coupon, as I did not see it in the coupon preview.
Another great deal that I am excited about is the Up & Up Sunscreen. It is on sale at $5.24 this week, and I used a $1 off Up & Up coupon to get it for $4.24. Now that the spring temperatures have arrived in South Florida, we are spending a lot of time at the beach and playing outdoors, so it is definitely time to add lots of sunscreen. This spray is mainly bought for the birthday party though, as I don't want any of the kids to go home with a sunburn. I spotted several sunscreens on clearance, but they were only 15 – 30 percent off, and more expensive than the Target brand after coupon and sale.
My Target Clearance Shopping Trip
Up & Up Sunscreen Spray SPF 30 on sale at $5.24 – $1
Up & Up Coupon
= $4.24
4 x Kleenex on sale at $1.25 each = $5 – (4 x $1 Kleenex Coupon (Regional SS 2/26) = $1 ($0.25 each)
-$0.10 Target Reusable Bag Discount
Tax $0.95
Total out of pocket $12.42
Total saved $20.68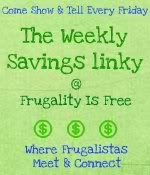 I would love to see how you did on your grocery shopping this week. Come link up at the
Weekly Savings Linky
at Frugality Is Free every Friday!
Did you find any great Target clearance deals lately?