Well, I got a lot of shopping done this morning, and there is no more room left in the fridge or the pantry. I went way over budget, but that's okay, because sometimes that needs to happen in order to keep with up with the frugal pantry. As long as the budget evens out over the entire year, then I will be happy. I did a lot of Walmart price matching this week, which meant that I was able to get some fantastic deals on produce.
Do you do Walmart price matching with your local stores?
You can see the details of my shopping trips by clicking on the titles or the images.
I spent $27.13 at ALDI
I saved $14 at ALDI
See my:
I spent $38.08 at Publix
I saved $74.37 at Publix
I spent $22.90 at Walmart
I saved $29.68 at Walmart
See my:
I spent $0.18 at CVS
I saved $7.48 at CVS
$2 CVS Extra Bucks Back
This week's Target Family Games Trip
I spent $13.12 at Target
I saved $56.73 at Target

My Weekly Savings Totals
Groceries for a family of 5:
Total spent this week $88.29
Total saved this week $125.53
This week's clothing and extra purchases:
Total spent this week $13.12
Total saved this week $56.73
Total Out of Pocket This week:
Total spent this week $101.41
Total saved this week $182.26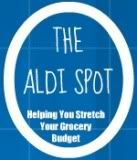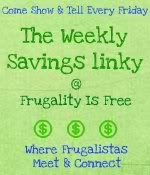 For more places to link up your
grocery savings
check out the
Weekly Savings Linky Collection
, and if you have a giveaway on your blog don't forget to enter it at the
Fantastic Friday Giveaway Linky
.
Am I the only one, who went over budget this week?