Welcome to the Weekly Savings Linky here at Frugality Is Free. This week has been very hectic for me, because between my kids being home on spring break and my own brave albeit a bit foolish attempt to switch Frugality Is Free to WordPress, well let's just say that I have been a bit stressed out. I still got a little bit of shopping done, but it was mostly running in and out, while my husband and the kids were waiting in the car.
You can see the details of my shopping trips by clicking on the titles or the images.
See my:
I spent $42.84 at Publix
I saved $46.89 at Publix
See my:
I spent $6.91 at CVS
I saved $20.44 at CVS
$5 CVS Extra Bucks Back
See my:
I spent $22.45 at Sears
I saved $47.08 at Sears
I spent $0.70 at JCPenney
I saved $10 at JCPenney
My Savings Totals
Groceries for a family of 5:
Total spent this week $49.75
Total saved this week $67.33
This week's clothing and extra purchases:
Total spent this week $23.15
Total saved this week $57.08
Total Out of Pocket This week:
Total spent this week $72.19
Total saved this week $115.40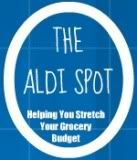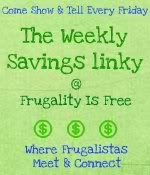 For more places to link up your
grocery savings
check out the
Weekly Savings Linky Collection
, and if you have a giveaway on your blog don't forget to enter it at the
Fantastic Friday Giveaway Linky
.
Did you find any great shopping deals this week?