It is time for another round of the Weekly Savings Linky, where you can see how I am able to keep a frugal budget for my family. By shopping deals and shopping several stores, I am able to save more for my family of five. This week I went over my usual $60-$65 weekly grocery budget though, but that's alright, because I have been below budget for a few weeks.
After a week with all three boys home for spring break, my family needed to stock up on breads and other staples. I also found some great deals on kids toothpaste, party favors, cream cheese and Pillsbury rolls. The splurges this week were on Easter candy, and I found both a hat for myself, jeans for my middle son and sandals for my youngest son at Kohl's.
You can see the details of my shopping trips by clicking on the titles or the images.
See my:
I spent $21.28 at ALDI
I saved $11 at ALDI
See my:
I spent $13.51 at Publix
I saved $54.55 at Publix
See my:
I spent $1.22 at CVS
I saved $10.89 at CVS
$5 CVS Extra Bucks Back
See my:
I spent $34.36 at Target
I saved $36.80 at Target

I spent $4.69 at Walmart
I saved $4.78 at Walmart
I spent $14.04 at Kohls
I saved $80.72 at Kohls
My Weekly Savings Totals
Groceries for a family of 5:
Total spent this week $75.06
Total saved this week $118.02
This week's clothing and extra purchases:
Total spent this week $14.04
Total saved this week $80.72
Total Out of Pocket This week:
Total spent this week $89.10
Total saved this week $198.74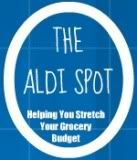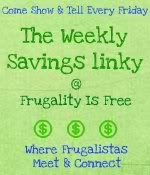 For more places to link up your
grocery savings
check out the
Weekly Savings Linky Collection
, and if you have a giveaway on your blog don't forget to enter it at the
Fantastic Friday Giveaway Linky
.
I would love to hear how you did on your weekly grocery savings? Did you go over your budget this week?