It is Friday again, which means that it is time to look over my purchases for the past week to make sure that I stay within my budget for the year. This was my second week in a row, where I was under my grocery budget, but I have been over budget in other weeks, so it all adds up. Despite being under budget, our fridge and pantry are still filled to top capacity, although I was able to make room for rye bread in the freezer (even after buying chicken) this week. My kids also have plenty of snacks, and both the produce drawer and the produce bowl are filled up thanks to price matching in other weeks. Our vegetable garden are providing us with lots of great tomatoes and herbs, so this is another item I do not have to worry about. I did loose about $14, when someone took a bag, after I had bought two jackets earlier in the week. I wasn't sure whether to put it in the budget or not, but I finally decided to put it as a loss. You can see the Lender's bagel post for details, if you want to know how I actually lost my deals….
How did you do this week?
You can see the details of my shopping trips by clicking on the titles or the images.
I spent $29.87 at ALDI
I saved $13 at ALDI
See my:
I spent $7.30 at Publix
I saved $14.16 at Publix
This week's Target Easter Clearance Trip
My cheap Lenders Bagels Trip
I spent $14.53 at Target
I saved $40.82 at Target
Lost ??? at Target

My Weekly Savings Totals
Groceries for a family of 5:
Total spent this week $38.61
Total saved this week $31.68
This week's clothing and extra purchases:
Total spent this week $13.09
Total saved this week $$36.32
Total Out of Pocket This week:
Total spent this week $51.70
Total saved this week $67.98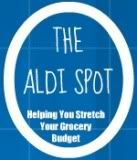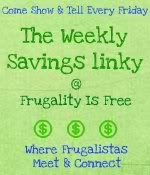 For more places to link up your
grocery savings
check out the
Weekly Savings Linky Collection
, and if you have a giveaway on your blog don't forget to enter it at the
Fantastic Friday Giveaway Linky
.
What is your weekly grocery budget?